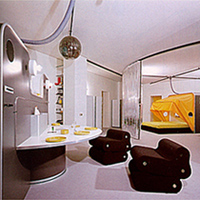 The apartment of Joe Colombo in Milan: "Cabriolet-Bed".

"ROTOLIVING" and "CABRIOLET BED"
AJC. 0148 - 0145

Design 1969 - Production 1970 SORMANI

Two coordinated living machines, which synthesized day-time and night-time environments.

Designed in 1969, they were of Joe Colombo's private home and were the fruit of his research into the new living habitat.

They were exhibited for the first time at the Triennale in Milan, "Eurodomus 3", and produced in limited numbers. These two structures are a further development of Colombo's early interest in the concept of non-furniture.